Food has an incredible ability to evoke feelings of nostalgia and bring back memories from long ago. The food that we eat as children often has a permanent impact on what we turn to for comfort, what feels familiar, and what we crave most often. Since I moved to America at the age of four, I don't have many clear memories of living in China, but there are many dishes that have had a lasting impression on me.
One of the reasons I was initially reluctant about adopting a vegan diet was because I didn't want to give up eating many of my favorite Chinese dishes that I grew up with. Dishes like dumplings and whole fish remind me so much of my culture, my family, and my childhood. However, I haven't had to give up as much as I thought I would.
Unlike some other cuisines, Chinese dishes are often segregated into meat, vegetable, and staple food (rice, noodles, steamed buns) categories, rather than mixing numerous components into a single dish. As a result, there is an abundance of Chinese dishes that are completely free of animal products, with no need for substitutions or adjustments. Here in the U.S., Chinese food has a unique history of its own. When Chinese immigrants began to open Chinese restaurants in the early 1900s, Americanized Chinese food began to gain momentum, developing into its own distinctive category. After years of evolution, many of these dishes are unrecognizable by Chinese people as Chinese food. But the "inauthenticity" of the dishes has not deterred people from eating and enjoying this style of food. As reliable as McDonald's, Americanized Chinese food has become one of the most beloved takeout cuisines in the country and a permanent fixture of American history.
Below, you will find a round-up of vegan Chinese recipes for those seeking traditional Chinese dishes as well as for those who enjoy the familiar flavors of American style Chinese food.
TRADITIONAL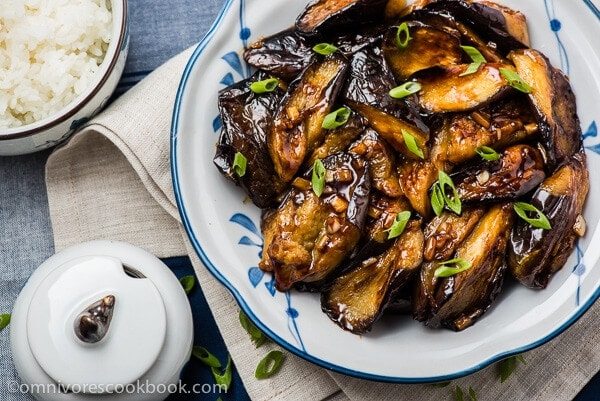 Chinese Eggplant with Garlic Sauce
Sichuan Napa Cabbage Stir Fry

AMERICANIZED
Sweet and Sour Crispy Mock Chicken
You can find even more vegan Asian recipes on my Pinterest board!