Getting dinner on the table every night can be a daily battle for busy families. Whether your kids are young and constantly in need of attention or adolescents with a plethora of after-school activities, dinner often becomes an afterthought that is picked up through a drive-through window. However, cooking a healthy dinner does not always equate to hours being spent in the kitchen. Having the right kitchen gadgets can make the biggest difference, saving you time, money, and producing better tasting meals.
But how do you know which ones are gimmicks, destined to take up valuable cabinet space for years, and which ones are worth the hype? Below are the best kitchen gadgets, recommended by chefs, that are sure to improve your home cooking experience. In a market crowded with possibilities our recommendations will make sure that you have the right tool for the job and get the best value for your money.
Good Quality Pots & Pans
For everyday use, investing in a set of high-quality pots and pans is essential in making the cooking process easy and stress-free. The three popular types of cookware that you must decide between are stainless steel, ceramic, and Teflon. The pros and cons of each are outlined below, as well as a budget-friendly and splurge recommendation for each type.
Stainless Steel
Teflon Coated
Ceramic Coated
For beginners, ceramic is typically the best way to go because there is less margin for error. However, if you are a seasoned chef who feel comfortable in the kitchen and have many cooking techniques under your belt, the classic stainless steel is a great option.
Sharp Knives
Aside from pots and pans, a chef's most important kitchen accessory is a set of sharp and durable knives. This past winter, I truly appreciated the importance of having a sharp knife for the right purpose when I tried to cut a pineapple using a dull boning knife at the rental house we were staying at. Aside from the pineapple being shredded, I also got a blister on my hand from having to push down so hard.
Using the correct knife for the job at hand not only makes the work easier, it protects the product you are working with and also protects you. Sharp knives in the kitchen are not more dangerous – they are actually safer – because they cut easily so you can retain better control. Invest your money in a knife set so that all of your cutting jobs are covered. And pick up a knife sharpener to maintain your knives and keep them in the best condition.
Steamer
Steaming is a cooking method that is just as healthy as boiling. The food retains moisture but does not become waterlogged. Often, steamed food has a reputation for being bland and mushy, but this only occurs when the food is improperly seasoned or cooked for too long.
Steamers are a kitchen staple for chefs who cook Asian food. Using our steamer to cook rice and buns was an everyday task for my Chinese mother when I was growing up. Aside from carbohydrates, the steamer is also great for cooking vegetables, fish, dumplings, and various desserts. No oil is needed, and the various textures of the foods are preserved.
For the occasional steamer user, there are many cheap and space-saving alternatives to a full-sized steamer. Purchasing a steamer basket allows you to transform any pot you currently have into a makeshift steamer. You can also opt for a more traditional bamboo steamer, which can be placed into pan, wok, or Instant Pot (see below).
Instant Pot or Slow Cooker
Slow cookers have been around since the 1970s, and busy families have been putting it to use for decades. Dishes that require long cooking times can be thrown into a slow cooker unattended, producing a delicious meal hours later. Look for a slow cooker with a built-in timer to allow for more flexibility in cooking time. The cooker will automatically switch to Warm mode after the allotted time to avoid overcooking and keep food ready to eat.
A more recent upgrade to the slow cooker is the Instant Pot. It has all the capabilities of a slow cooker, as well as a pressure cooker, rice cooker, steamer, yogurt maker, and saute pan. It almost sounds a little too good to be true! But the rave reviews indicate that it delivers on its claims, and it is a must have for a busy family. For a comprehensive comparison on the different types of Instant Pots, as well as delicious vegan recipes, check out The Ultimate Vegan Guide to the Instant Pot.
Stand Mixer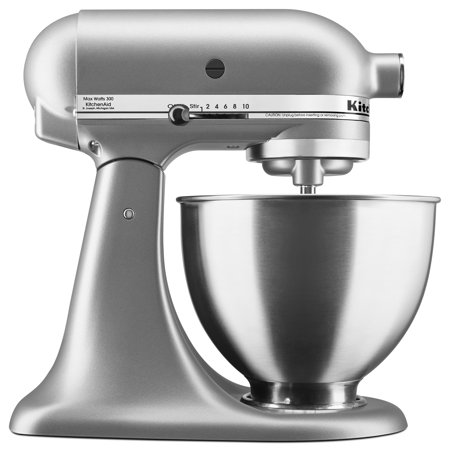 As serious bakers know, there is no substitute for a high-quality stand mixer. It takes the cake (pun intended) when it comes to baking needs, such as mixing batters, whipping cream and frosting, and kneading dough. In addition to baking, a stand mixer is also great at shredding meat, combining thick mixtures (such as meatballs, guacamole), and removing all the lumps from mashed potatoes.
Furthermore, attachments can be purchased to get even more uses out of the stand mixer's powerful motor. The pasta roller, spiralizer, food grinder, and food processor attachments are some of the most popular ones.
Immersion Blender
Blenders, mixers, and food processors are kitchen appliances that often get a lot of hype. Each of these gadgets is a great addition to the kitchen and very effective at performing specific tasks. However, they may not all be feasible for families with limited budgets and storage space.
An immersion blender is a cost-effective, compact, hand-held tool that can do a lot of the same things. You may not know that an immersion blender can whip cream, chop up nuts, puree baby food, and blend smoothies. Its specialty is small-scale blending, which is used when making things such as mayonnaise, pesto, nut butters, soups, batters, hummus, salsa, and more! Many immersion blenders come with a whisk attachment, which makes beating eggs, whipping cream, and whisking merengues a breeze.
Snow Cone Machine
This summer, treat your kids to endless snow cones, an easy and low-calorie dessert and the perfect accompaniment to spending time outdoors or a summer party. A snow cone machine is easy to use, budget-friendly, and sure to keep your kids happy during the warmer months. You can use it with your own homemade syrups to make snow cones of any flavor. You can also use it for coffee drinks for the adults or make baobing, a Taiwanese shaved ice dessert.
For snow cone machine with a sleek metallic look, try ZENY Ice Shaver Machine, which features a high-efficiency motor and rust-resistant steel. The Nostalgia Vintage Snow Cone Maker will appeal more to your kids, with its whimsical design and built-in snow cone holder.