Fiction
I loved the normalization of Asian-Americans, particularly Asian-American women in this book. The characters' ethnicities are mentioned casually, and that is merely one aspect of their identities, not the main focus. The book is also progressive in the sense that a rumor surfaces about two women being in a relationship and the shock factor is NOT due to the fact that it is not heterosexual in nature. This book may be passed off as fluffy chick-lit, but it is subtlely and profoundly breaking many important barriers in the literary world. It is not announcing itself as a "book about Asian people" or a "lesbian book." It is merely a book about two women and their evolving relationship. The pacing was on the slower side, with a lot of time spent on build-up and miscommunication. But the climax of the book was very satisfying and worth the ride.
4.0☆
I really think I've gotten to the heart and soul of the series and Louise Penny has really found her groove. The return of the lovable and quirky characters of Three Pines, as well as the introduction of new families and backstories, give the book a sense of familiarity and novelty. Louise Penny has an uncanny ability to incorporate both witty banter and insightful commentary on the human psyche among the Surete and the Three Pines residents. The setup for this book is complicated and makes room for a lot of different hypotheses about who may have been the killer and why. However, the ending of the book was the most unclear and unsatisfying of the series so far. I really wished there was more of an undeniable "reveal" rather than a slow unveiling of the perpetrator.
4.0☆
I don't read romance often. I tend to get bored of the predictability and guaranteed happy endings of this genre. But this book is anything but a typical romance book. Williams was able to write a story that celebrates both Black writers and Black culture without making race the entire focus of the book. Eva and Shane are strong, resilient authors who have had troubled childhoods and have overcome tremendous trauma and substance abuse issues. They spent a whirlwind week together when they were younger, and their unexpected reunion results in another intense and steamy seven days. The characters are spunky and vivacious, and the storyline is fast-paced and very compelling. Each of the main characters is portrayed as complex and flawed individuals, not single-dimensional stereotypes. The epilogue seemed a bit rushed and cliche but still heartwarming nonetheless.
4.5☆
The history of China is long and fascinating, with much upheaval and war, but also filled with exquisite culture and art. Rutherfurd is known for his sweeping historical sagas about fictional characters in a very real timeline in history. These characters are from all walks of life and have vastly differing experiences, but they all intertwine in an inextricable way. We see through the eyes of a British merchant, a peasant woman, a smuggler, a Christian missionary, a eunuch in the palace, and more to gain a well-rounded perspective on life in China during that time. Their individual intersections are revealed slowly and round out the story in an ingenious way. It definitely filled in numerous gaps in my knowledge about Chinese history, and it provided a lot of context to the events that transpired in the 20th century.
5.0☆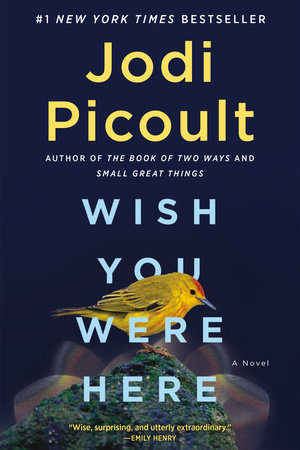 Jodi Picoult does it again. This book is propulsive, vivid, witty, and extremely relevant. Picoult has never been afraid to write about tough topics. Recently, many of her books have covered current events, so I was not surprised that she is at the forefront of tackling the topic of the recent pandemic. She intersperses the story with news from New York City, a COVID hotspot, and the remote Galapagos Islands, home of Darwin's finches and the theory of evolution. She paints a brilliant image of the picturesque and secluded islands, as well as the chaos and terror of COVID in New York City. The characters are likable and relatable and you can't help but fall in love with them.
5.0☆
This book really caught me by surprise. It has a unique and interesting premise and is utterly unpredictable in every way. The author did not try to craft a story that is politically correct and socially acceptable. It is crass but refined; brutally honest, and extremely vulnerable. It portrays the challenges that transgender people have in a completely new light and provides a lens into the actual lives of people who have transitioned or are transitioning. It is a reality that many of us have no insight into, and it is pivotal in helping the cisgender community truly understand and be an ally to the transgender community.
4.0☆
Non-Fiction
This beautiful memoir co-written by mother and daughter was a lot more than I bargained for. Both are extremely talented writers and have gone through tremendous challenges in their lives. The alternating perspectives of Lan and Harlan produced a more well-rounded story, much of which is similar to my own. Harlan's descriptions of her synesthesia were fascinating, and Lan's struggle with her "shadow selves" which sound like multiple personality disorder showed just how deeply trauma and mental illness can affect a person. Some of the accounts were somewhat disjointed, but it was fascinating to see both perspectives of their challenging but loving relationship.
4.5☆