Fiction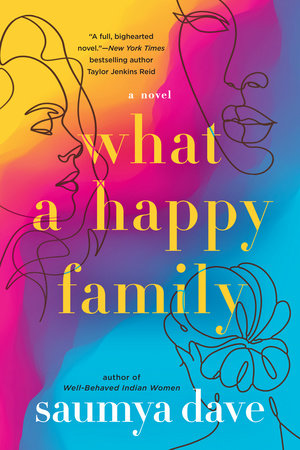 This is the story of a typical immigrant family, one filled with unmet expectations, resentment, secrets, and definitely no talking about feelings. When Natasha ventures out to pursue comedy full-time, her whole life turns upside down and nothing goes as planned. The other members of the Joshi family are also going through troubles of their own, but no one is willing to share or ask for help. An unexpected event forces the family to face their fears head-on and deal with their issues in a way they've never felt comfortable doing before. It is evident this is an Own Voices story. Saumya Dave is very familiar with the familial relations within a Desi family and community and uses the Joshi family to convey how even the most fragmented household can unite and support each other in the most important ways.
3.5☆
The writing in this book is intricate, poignant, and simply elegant. The ethereal feeling the author is able to convey with a few simple words strung together demonstrates a level of artistry that is seldom seen in fiction writing. It incorporates the full-bodied verboseness of prose balanced with the lyrical essence of poetry. I thought this book would be about immigration, living through the Cultural Revolution, being raised by grandparents, and familial challenges. But it turned out to be so much more. It's about human beings who are flawed and deeply affected by past traumas. It's also about the magic of music its transformative nature.
5.0☆
The Brennans are well known in their small town. When Sunday gets into a serious car accident, her brother convinces her to come home from California. Her abrupt departure five years ago left everyone confused, especially her longtime boyfriend and close friend of the family, Kale. As they gear up to open a new location for their family business, everyone's secrets slowly start to seep out. The portrayal of the Brennan family is extremely believable. They are not perfect, but they have such deep affection for each other. The story is mostly character-driven but there were a few plot twists thrown in that kept me intrigued. I really enjoyed getting to know the Brennans and rooting for them along the way.
4.5☆
Scarlett is just barely keeping it together on her first day back to work after a year-long maternity leave. When she is told there is a sex tape that has been sent to all of her family and friends, she is floored. Everyone in her life has witnessed this intimate moment in her life except her baby group, who she is keeping out of the drama at all costs. But we find out early on that the very person responsible for this malicious act is a member of the close-knit baby group. This domestic thriller kept me engaged from the first page. Even though it is heavily plot-driven, we get to know each of the characters very well, and the writing is well-executed. This was an ingenious story about how the intimate bond of new moms can go horribly awry.
4.5☆
For a light read, this book really hit the spot. The cast of characters is endearing and sassy and even though they have their flaws, they always have the best of intentions. Emma and Riley are self-reliant and have experienced rejection in many forms. So when Genevieve contacts Emma 20 years after she kicked her out, Emma does not want to acquiesce to her wish to see Emma and Riley, even if she has a terminal illness. But that summer in Connecticut proves to be a life-changing one, where unexpected ties are formed and decade-long secrets are revealed. The heart that can be felt in this book is tremendous. The pacing never lagged and writing is easy to read but thoughtfully done. This was the perfect vacation read.
4.5☆
This book tells the story of one particularly unfortunate week, where Raj's seemingly innocuous blunders get him into trouble, in multiple facets of his life. With recent events, more and more conversations are being had about race relations and racism, a much-needed change from the silence that pervaded this country. However, it appears that in certain situations, this has been overcorrected, veering into the other extreme of hypersensitivity and excessive political correctness. People who may make a mistake in their comments are being obliterated, particularly in the online sphere where words often have no consequences. These topics are extremely difficult to handle well, but Pandya does an impressive job of adding nuance and human emotions to the issue of race. He discerns the different types of racial tension that exist, dispelling the belief that all prejudice is treated the same. This book invokes empathy, understanding, and eradicating the societal barriers that cause separation and misguided assumptions.
4.0☆
Non-Fiction
This memoir grabbed me from the very first page. Vince and his family has had to deal with the impossible – the murder of their mother at the hands of their schizophrenic brother. The heaviness of this event is felt through every page, every sentence. The bravery and vulnerability that is displayed in telling this story is astounding. Vince shows extreme compassion and empathy towards his ailing brother, delving deeply into the mental health issues his brother battles everyday. He identifies the ways in which the health care system tried and failed to help his brother and the gaps in knowledge that still pervade. This story and this book is truly one of a kind.
5.0☆
The author tells the story of her life, growing up in Canada with her mom and sisters while her father worked in Hong Kong, through short vignettes, a snapshot of a moment in time or a conversation that took place. The writing is simple and straightforward, not flowery or overly analytical. As her father's health deteriorates, the women in the family spend time with him and each other, learning about the past and how it has shaped them into who they are today.
4.0☆
This book is much denser than I expected, and the topics she addresses are somewhat hard to follow. She does a great job of explaining why people have certain sexual tendencies and why long-term relationships inevitably lead to a lack of passion and desire. She uses many examples to illustrate the points she is making but not a lot of practical suggestions for ameliorating these issues. The book would have been much easier to read if it had been more narrative in nature and the points she made followed a more linear progression. Overall, the book is very informative and can be a tool for couples in long-term relationships, looking to avoid the sexual lull that inevitably afflicts all partnered relationships.
4.0☆
Doree has had an unconventional life on an unconventional timeline. In this memoir, she shares her struggles with feeling left behind in terms of marriage, career, and starting a family. The societal and familial pressures she feels are enormous, and the idea of settling for less than she deserves is tempting and distressing. Over time, she is able to come to terms with how she is not "behind," but rather thriving and living life on her own terms. This is such an important issue that needs to be addressed and shared more often.
4.5☆