Cooking with your kids can be a fun and educational way to bond. It is also a great way to teach them how to cook healthy foods and encourage them to try new things they wouldn't otherwise touch. Through a hands-on cooking experience, children can learn about the importance of food, nutrition, and cooking when they are involved in the process. They also learn how to work as a team and take on different roles such as preparing, baking, cooking, or cleaning up after the meal.
There are many ways you can cook with your kids: bake a cake from a mix, make homemade ice cream, or even create an entire meal from scratch! For me, trying new recipes and designing a meal from the ingredients we already have is a great way to express creativity. For children, this can also be a great way to encourage creativity too.
But cooking with kids also has drawbacks, such as making more of a mess and taking more time overall. So what can you do? How can you get your child involved in the kitchen without butting heads? Here's what you need to know!
Let Them Choose
Children love getting to have a say. So why not let them choose the food? It gives them the chance to feel like a leader, and it lets them feel heard too. Give them two or three options that you want to make and let them have some of the power. This will encourage them to take ownership of the process and be more cooperative overall.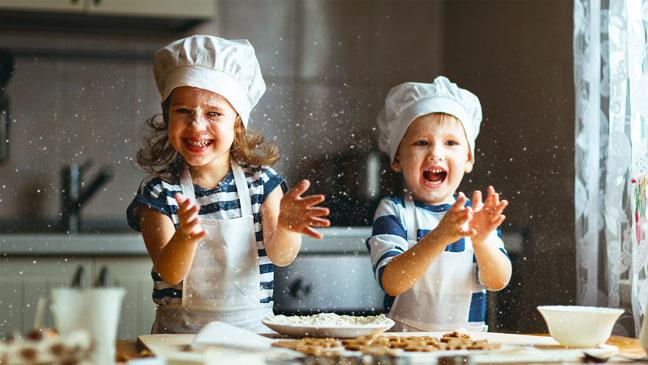 Let Them Prep
Kids love to help and take on more "adult" responsibilities. Take this opportunity to teach them about different types of food, how to read recipe books, how to handle a knife, and about measurements and weight. Let them be as involved as they can by measuring ingredients, mixing, and doing other simple tasks. You can purchase a kid-safe knife to let them try their hand at knife skills. If you are not sure what your child should be doing in the kitchen at a certain age, there are many great resources to give you a frame of reference.
Let Them Learn
You can get ideas from the internet or flip through cookbooks to let them get an idea of what they want to make with you. It will help to improve their reading and research skills. Whether they're interested in a cream cheese frosting recipe, mac and cheese recipe, or something a little more ambitious like shrimp, just encourage it! They may discover their new favorite hobby, one that the whole family can benefit from.
Let Them Decide
If you are wondering how to make your food more appealing to your little one, this is a great question to ask them. You can ask them what colors they like, what textures they like, or even what tastes are their favorite. Getting some food to be based on their own terms will let them feel heard and this can be a gentle nudge to enjoy cooking. You can even dress them up in cute aprons to add to the appeal of cooking!