There are many reasons why people love Australia. It houses some of the most historic and popular attractions, such as the Great Barrier Reef. And, it boasts some of the most beautiful and tranquil beaches. No wonder so many people call it paradise.
If you are planning on visiting Down Under then you should do a little bit of research in order to get the most out of your stay. For beach lovers, Fraser Island, which is the biggest sand island in Australia, is an obvious choice. Here are some of the best beaches to visit while traveling around Australia.
Wineglass Bay
Wineglass Bay is an intriguing and exciting beach that is based in Tasmania. You have to walk to get to this beach; a beautiful adventure helping to build up the anticipation of the gorgeous sands you are about to arrive at. It is a two-hour walk from the entrance of Freycinet National Park. Keep an eye out for white-bellied sea eagles and black swans in the Moulting Lagoons. At Wineglass Bay, you can go sea kayaking, rock climbing, mountain biking, or scuba diving.
Bondi Beach
Bondi Beach is situated in New South Wales, Sydney. The beach is one of the most famous and popular in the whole of Australia. And, it is not hard to see why people travel here. The idyllic beach is picture-perfect with two sandstone headlands marking the beginning and the end of the sandy stretch. This is a beach that represents sheer bliss. You will witness children laughing, people surfing, and others sipping on cocktails. There are also lots of different watersports and activities you can try here as well, which are bound to be plenty of fun.
Lucky Bay
Lucky Bay can be found in Cape Le Grand National Park. With regards to main cities, this is based near Perth. Lucky Bay comprises two key qualities: isolation and sea life. The beach is situated far away from almost everything and this makes it the perfect place to get away from the fast pace of everyday life. Take a good book with you and you can spend the entire day here, chilling and unwinding. If you have run out of things to read, check out these suggestions for mystery novels to read at the beach. They will keep you entertained, but make sure you take some time to enjoy what is around you too. If you are looking for somewhere to escape and unwind, Lucky Bay is just the place. In addition to this, you will be able to witness some of the most fantastic sea life. The waters are clear, meaning that you can see dolphins, seals, and whales from the shore.
Whitehaven
Queensland's best beach is widely credited with being one of the most outstanding beaches in the world. What sets this beach apart from the others is the beautiful turquoise shade of the sea. This is enhanced by the stunning trees that lace the shore.  No wonder it is a highlight spot for most tourists. You will see people all over the world coming to Whitehaven to spend a day sunbathing and splashing around in the beautiful waters. This beach is great for those looking to spend the full day out.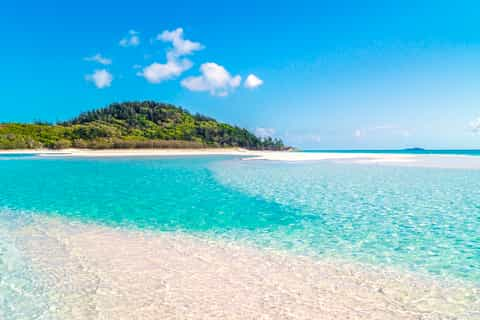 ---
When visiting Australia you should certainly take the time to make sure that you get to visit one of these beaches. They are all beautiful, unique, and majestic in their own right. Providing you with memories you will never forget. We all know that Australia is considered one of the best places in the world for beaches and beach life. So, you will definitely want to make the most of this. Not only can you relax but there will be so many activities going on at the popular beaches like Bondi Beach. At the secluded beaches, you have the chance to explore a slice of Australia at your own pace and you may even get an incredible one-on-one experience with wildlife that you otherwise would not have in a crowded area.